Clicking on the link on the sidebar, or one of the titles below, leads you to short synopses of Sylvia's books. The next links lead to websites where they may be purchased. They may also be ordered through any book store.
---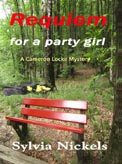 An abused ex-wife, divorcee, former Chief of Security for a manufacturing company, and newly-minted Private Investigator Cameron Locke has begun a new life. A second yellow rose left on her porch puzzles, but doesn't alarm her. But when a friend, Police Sergeant Shackleford Lane, digs the first rose from her trash, she learns that two young women, recemt murder victims, also received roses before their deaths. A young Georgia woman hires Cam to find her cousin and Cam uncovers a local political scandal involving her own ex-husband, her client's cousin, and her friend and PI mentor, Dan Traynor. Cam and Dan are kidnapped by the murderer. Dan and the kidnapper are killed as he saves Cam's life.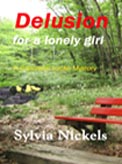 A young woman wearing high end clothing appears in Cam Locke's office with a wad of cash in her designer purse and hires Cam to find her boyfriend. Cam is intrigued, though her new client lies about everything from how they met to her own name. The stepdaughter of Cam's boyfriend, Sergeant Shac Lane, is reported missing. Cam uncovers ties to her client and the missing boyfriend, a corrupt judge in the state capital, and Shac's ex-wife. By the time Cam realizes that she's tangled up with more than an errant lover and the client is connected to murder, it's Cam who is in the crosshairs.
PI Cam Locke joins Zoey at the airport to welcome a wounded military hero, home on leave. Major Tawson is an heiress to the well-known Tawson makeup company, based in Wexler Bend, and granddaughter of Chief Tawson, boss of PI Cam Locke's boyfriend. A Navy pilot follows Cam home and hires her to find a beautiful woman with whom he spent a memorable weekend in Biloxi, MS. Next day, after the death of Major Tawson's twin sister, Cam is hired by Chief Tawson to find their mother, who may be in Mississippi. Cam does not find the pilot's girl, but does locate Captain Tawson's daughter-in-law. Cam and Major Tawson are nearly shot in Cam's office. Finally after she, Zoey, and Major Tawson's mother are poisoned. Before all is revealed, another unexpected murder costs the killer his life and shocks Cam, Shac, and many others.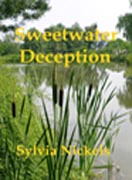 The day after she moved back to the farm she inherited from her beloved grandparents, Dana Tucker Pennington is shaken to find on her front steps the boy, now a successful businessman, who broke her teenaged heart. She learns of the circumstances which led to that heartbreak, but she can't bring herself to tell him of the reason for her own marriage to his friend soon after Bret deserted her. A year later, now married, Dana and Bret face more obstacles to their new happiness when the secrets from their shared past threaten the lives of the two daughters they adore.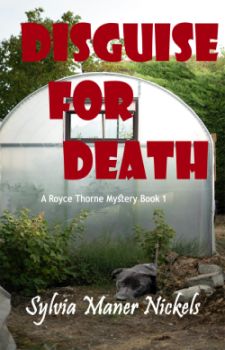 Royce Thorne always dreamed of having children in a marriage not marred by infidelity like that of her parents. When she learns that her husband, Eddy, fathered their neighbor's son, she is devastated but vows to keep the secret. After Eddy's death his will reveals that he has left a large sum of money to his son, Palmer, as an apology for failing to acknowledge paternity. Someone knows Royce's secret and uses the knowledge to frame Palm for murder. Royce is determined to find the real killer, no matter the cost. Her search is hindered by a fake FBI agent, an ambitious investigative reporter, and a hostile tv show host--who all have secrets of their own.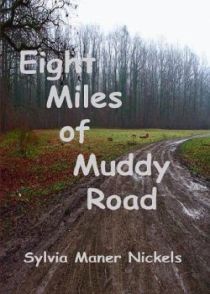 During the post-Great Depression and pre and post World War II years, Sylvia Maner Nickels and her family lived a nomadic life.Her sharecropper father moved their large family from one tenant farm to another in rural Georgia and Alabama. She recounts with a light touch the years of deep poverty with their mix of joy and sorrow, which forged an endearing bond between the seven siblings. That they not anly survived but thrived, she credits to the bedrock support of parents and extended family. In the words of reviewer, Betty Koffman-"Sylvia Nickels's stories of growing up in rural Georgia tap into a universal theme, the connection of family and home which stays with us throughout our lives."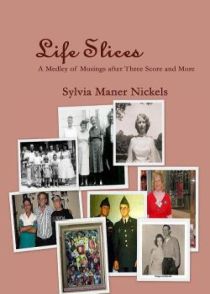 Almost a year after her fifty-two years of marriage ended with her husband's death, Sylvia Maner Nickels had reached a bit of emotional equillibrium in life. Time to get back to writing, if she was ever going to. Thanks to Kingsport Daily News editors Pete Dykes and his son, Steve, came the fulfillment of a dream for Sylvia, a weekly newspaper column, for four years. After passing up plain stupid, cutesy, and pretentious names, she settled on Life Slices, a Medley of Musings after Three Score and More.Life Slices is a collection showcasing sixty of her columns over two years, many revealing nostalgia for the past, observations on the world, some rants, and some raves.
Thirteen short mystery stories, three previously published print or online. They are Casino Justice, (Editor's Choice, Bewildering Stories ezine); Road to Riches (Orchard Press Mysteries, site closed); The Taste of Sweet Revenge (Honorable Mention, Cape Fear Writers Conference)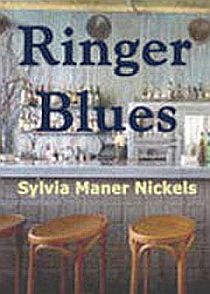 Other people in Fall Creek, TN besides Royce Thorne, heroine of Disguise for Death, had trouble in their lives. Including Mitch Ringer, police detective/cafe owner/private detective. A bullet nearly took his life and did take his job. He never expected opening a cafe with his wife, Frankie, would be almost as dangerous as being a policeman. But it also brought a chance for happiness again when a statuesque redhead named Danielle walked into his life.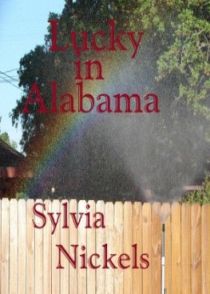 MacKenzie Howard Silver swore she would never become close to anyone after losing her family in a car accident. But she felt sorry for Tony when he failed to get a job where she worked. Dinner led to seveeral dates and she wound up marrying him. His mother's illness got worse and he told MacKenzie they need to move to Alabama to care for her. Tony inherited his mother's house after she died ando Tony kicked MacK out with a pittance. She found work and prospered and eventually a wealthy husband. But Tony found his mother had spent any money she had from his father and he could not keep up his big house.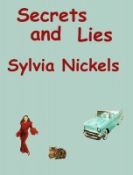 These seven stories, some very short, seemed to fit together for a small ebook. The first, Vintage, is one of Sylvia's favorites. A young woman loses her vintage clothing shop to fire and inherits her aunt's spacious home several hundred miles away. With her few salvaged articles of clothing she takes possession. When she and an old friend inspect the house, they find a treasure trove in her aunt's inventive scenes of historically clothed mannikins. Other stories involve feuding sisters, a divorcee who one-ups her selfish ex, and a poor young woman who learns that manipulating people can backfire.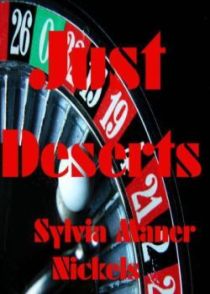 This small book is Sylvia's first and only attempt, so far, to write flash fiction. It contains ten tiny stories, some sad, some happy, some with a touch of magic, all with a twist ending.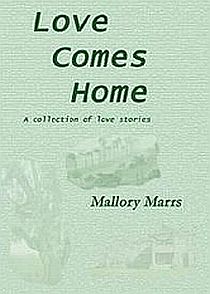 The above title was published under my pen name, Mallory Marrs. I never actually aspired to be a romance author, no offense to those who do write romance. It's a very popular genre. But the old radio(?), television(?) show, "I Love a Mystery," describes me perfectly. However, in the misty past, for whatever reason, I did write a few love stories. Rather than let them languish on my computer, I published them in this small book.
<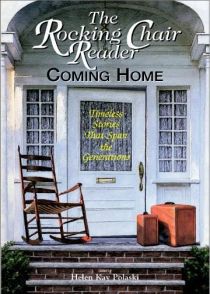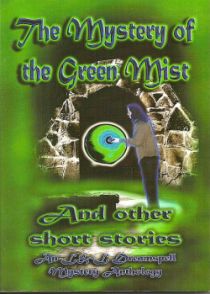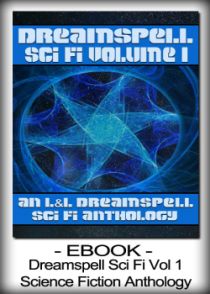 The first anthology was Sylvia's first acceptance in a traditional print volume. The next two were also from a (smaller) traditional publisher which had to close when one of the owners died unexpectedly. All the books are currently out of print.
!-- Start of StatCounter Code for Default Guide -->